Double eccentric Butterfly valves (HB series)
Double eccentric Butterfly valves (HB series)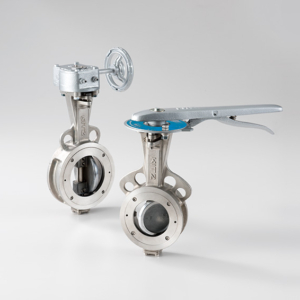 Original seat configuration and material for stable sealing performance
Double eccentric structure and RPTFE seat.
Feature and Specification
Specification
Valve nominal size
SHB
50A~300A
UHB
40A~300A
Applicable flange
5UHB
JIS 5K
10SHB・10UHB
JIS 10K
16SHB・20UHB
JIS16K, JIS20K
150SHB・150UHB
ASME Class 150
Maximum allowable pressure
5UHB
0.7MPa
10SHB・10UHB
1.4MPa
16SHB・20UHB
2.0MPa
150SHB
1.72MPa
160SHB
1.9MPa
Service temperature range
SHB
-10~+200℃
UHB
-29~+200℃
Face-to-face dimensions
JIS B 2002 46 series
Flow direction
Bidirectional flow
 *Recommended flow direction: Flow Pressure from the retainer side
Applicable gaskets
Joint seats (Minimum thickness 1.5 mm)
(commercially available gaskets)
Spiral wound gaskets / Envelope gaskets
Automatic valves
Contact KITZ Corporation for details.
Registering E-mail Magazine
We will send support information, new product information, and application information for our users.