Ductile cast iron Butterfly valves (DJ series)
Ductile cast iron Butterfly valves (DJ series)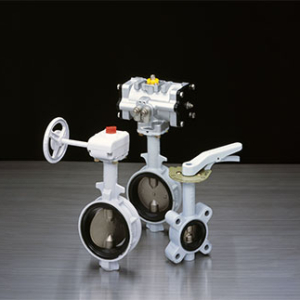 Through pursuit of functions required for butterfly valves, DJ series covers variety of product range to comply with user's requirements.
Feature and Specification
Maximum service pressure
ASME 150
1.03 MPa
10K
1.0 MPa
ASME 200
1.38 MPa
16K
1.6 MPa
ASME 250
1.72 MPa
20K
2.0 MPa
PN16
1.6 MPa
PN25
2.5 MPa
Service temperature range
NBR(Buna-N) seat
0℃ to +70℃
EPDM seat
-20℃ to +120℃
Continuous service temperature range
0℃ to +100℃
Applicable standards
Valve design
API 609, MSS-SP 67, EN 593, JIS B 2032
Face to face dimensions
API 609 Category A, MSS-SP 67 W-1: Size 2 to 14
W-2: Size 16 to 24
EN 558 basic series 20, ISO 5752 20 Series, JIS B 2002 46 Series
Coupling flanges
Wafer type
ASME Class 150/200/250
EN 1092 PN10: DN 50 to DN 350, PN16: All sizes
PN25: DN 50 to DN 300
BS 10 Table D/Table E
JIS 10K/16K/20K
Lugged type
ASME Class 150/200/250
EN 1092 PN10: DN 50 to DN 150, PN16: All sizes
PN25: DN 50 to DN 300

<Features>

Non-release sheet-to-body structure

Molded (glued) sheet structure is adopted for sizes 2 "to 12". Larger size valves come with replaceable seats. This non-peeling sheet-to-body construction provides high fluid speed support, vacuum support, and maintenance-free for handling rapidly rising fluid speeds.

* Up to 4 meters per second for on-off service of valves up to size 12 and up to 3 meters per second for sizes 14 and larger.

* Up to 2 30Torr. (Vacuum service is optional for size 14 and larger.)

Long Life Design with Spherical Design of Discs and Sheets

The rubber seat is designed to be spherical in contact with the upper and lower stems. This ensures that the widely designed rubber sheet is protected from peeling and deformation, resulting in a long valve life. Thinner metal disks are the result of experimental research that embody conditions that minimize pressure loss.

Extensive application support

The four discs and two seat materials, and a combination of manual, pneumatic, or electrical actuators, make the applicable applications very versatile.

Integrated ISO5211 Actuator Mounting Flanges

Pneumatic or electric actuators with ISO 5211 mounting flanges can be easily installed on site.

Low valve operating torque

The low operating torque is designed to extend the service life of the valve and to be aware of the total cost optimal valve selection.

(Lightweight design to increase operational efficiency)

It is much lighter than the conventional series, and is designed to be easily attached to piping.
Registering E-mail Magazine
We will send support information, new product information, and application information for our users.